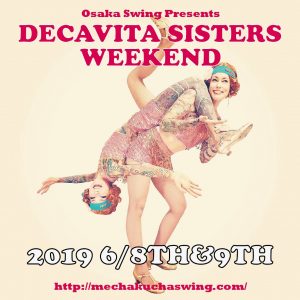 Osaka Swing Presents
Decavita Sisters Weekend in OSAKA
スウェーデンからキュートでホットな女性ユニット、デカビタシスターズがやってきます!!
女性ながら、フランキーの100歳をお祝するイベントでも3位に入賞するなど、実力はお墨付き!!
Decavita Sisters from Sweden is coming to Osaka!!
最新情報はFacebook Event Pageに載りますので、参加ボタンを押してチェックしてくださいね。
News will be up on Facebook Event Page, please click 'going' so you can get infos!
■ プロフィール / PROFIL E ■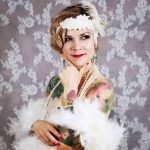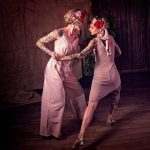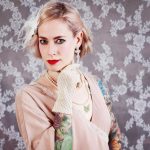 WEBSITE : https://www.thedecavitas.com/
Charlie and Rebecka, a.k.a The DecaVitas, or the DecaVita Sisters, are world-renowned dancers specializing in authentic Swing and Jazz Age dances. They have been teaching and performing together since 2006, competing since 2008 and are today among the top names in the international Swing Dance scene. Charlie and Rebecka are currently based in Stockholm, Sweden but spend about six months every year on the road, they have worked on six continents in more than 20 countries. The DecaVitas have won several major competitions and are founders of performance troups in both Sweden and the US and have many years of experience in coaching and choreographing group routines. Together they are known for their dynamic, creative and unique dance style. As two of the most liked and yearned for Lindy Hop instructors world wide, Charlie and Rebecka strive to teach great technique in a way that is positive, coherent and productive. They particularly value the art of leading and following, believing that leaders and followers require equal amount of information in the classroom to create the best possible connection on the dance floor.
In 2016 The DecaVitas entered a new era in their lives as professional dancers. Charlie and Rebecka decided to focus more on the artistic aspect of the dances that they love and less on competing. They are constantly learning, creating and developing their dance with endless curiosity and conviction that there is more to be discovered!
■ CLIP ■
■ 料金/  FEE ■

ワークショップの受講は事前のお申込みが必要です。
パーティーはスウィングダンスのパーティーです。パーティーのみの参加の方は事前のお申込みは必要ありません。
If you would like to take workshop, you need to register in advance.
Party is swing dance social. If you would like to do only party, you can come to the venue WITHOUT registration.

■ REGISTRATION / お申込み ■

Step1. 申込みフォームを送信 /  Send registration form

Step2. お支払い /  Payment
日本在住の方は以下の口座に、確認メール到着後1週間以内にお振り込み下さい。
入金の確認をもって、お申込みの完了と致します。
連絡なしに期限が守られない場合はキャンセル扱いとしますので、ご了承くださいませ。
※手数料はご負担ください。
——————–
楽天銀行 リズム支店 209
普通 4665569
オカモト マリコ
——————–
Overseas dancers,
Please pay the fee via paypal in 7days after you got a confirmation mail.
The purchase will be completed when payment is received and confirmed.
———————
poohmari@mail.goo.ne.jp
Mariko Okamoto
Please put your name, type of pass in the message.
———————

■ WORKSHOP ■ 13:00-16:30
会場 / VENUE : モラッキー Moracky


■ DANCE PARTY ■ 19:00-22:30 — 2400YEN+1Drink Order
会場 / VENUE : NOON +CAFE
BAND / CLAP STOMP SWINGIN'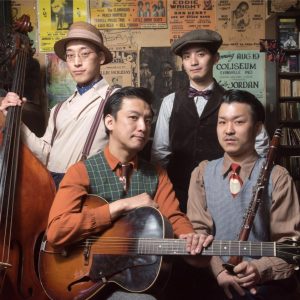 GUEST SHOWCASE 
ジャズダンスの大御所、新井 成枝 (Narie Arai)さんのパフォーマンスを予定しています♪
お楽しみに!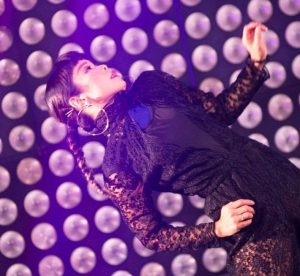 NARIE
クリスタル ケイのバックダンサーを務めた後、渡米。
Broadway dance centerで踊っているところをスカウトされ、Sony Colombia RecordのPopシンガーChris Trousdaleの専属ダンサーとして、3年間全米ツアー、Broadway、TVショー、USオープンなど、様々な舞台で活躍。
Ken Swift presents B-girl dance battle in N.Y 優勝。
帰国後、 CaosCaosCaos、OSAKA翔ギャングスなど振り付け。
CM、TV番組などの振り付けなど、様々なシーンで活躍。
自身もダンサーとして第一線で活躍し続けている。
高いスキルと表現力で、観るものを魅了するジャズシーンを代表するダンサー。
多くの実力派JAZZダンサーを育成し、輩出している。

■ WORKSHOP ■ 12:00-15:30
会場 / VENUE : アーサーマレー大阪 Arthur Murray Osaka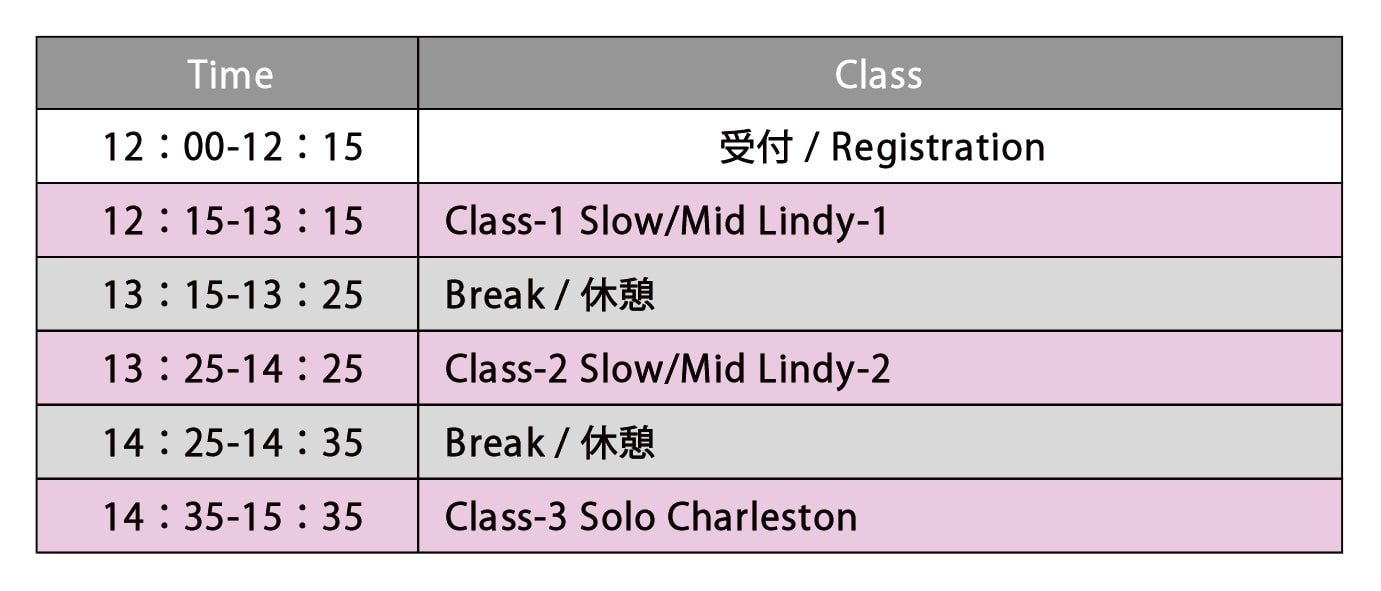 ■ DANCE PARTY ■ 17:00-20:30 — 2000YEN
会場はワークショップと同じアーサーマレー大阪です。
Venue is same as workshop.